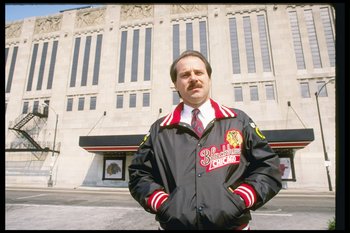 After taking the
Chicago Blackhawks
to the
1992 Stanley Cup Finals
, Keenan was forced to focus solely on his GM duties when longtime Blackhawk player and assistant coach,
Darryl Sutter
, was being courted by other teams to be their head coach. Owner Bill Wirtz did not want to lose Sutter, especially since Keenan had stated, in July, 1992, that he wished to focus solely on his duties as general manager after the 92–93 season. Keenan lost a power struggle with Senior V.P. Bob Pulford after the 1992–93 season, resigned his position, and was soon hired by the New York Rangers. Incidentally, Darryl Sutter resigned as head coach of the Blackhawks in 1996 after
Jeremy Roenick
made derogatory and well-publicized comments on a local sports-radio show. Keenan managed to coach the Rangers to the
Stanley Cup
in his first and only year as head coach, but was unable to coexist long enough with general manager
Neil Smith
and resigned weeks later, citing a violation of his contract by the Rangers.