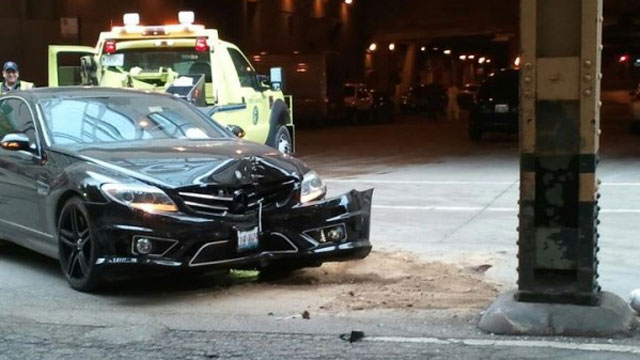 The Chicago
Blackhawks
got more than a scare on Thursday afternoon. Captain
Jonathan Toews
was involved in a one-car accident in Chicago and was taken away from the scene in an ambulance.
Now before you get too worked up, the Blackhawks did say in a statement that
Toews was in an accident
but he was not injured.
"Jonathan Toews was in a minor one-car collision in downtown Chicago this morning while driving himself to the United Center. He was not injured."
Toes confirmed the team report himself in a text message to
Chris Kuc of the Chicago Tribune
.
When contacted via text following the accident, Toews responded by saying, "It's nothing serious at all" and added, "I'm good."
Phew!
Here's a little more on the specifics of the scene of the accident
from CBS Chicago
:
Toews' black AMG Mercedes Benz struck an "L" support beam at the intersection of Lake and Garvey in the loop just before 10 a.m. 670 The Score confirmed the vehicle is registered to the Blackhawks center and witnesses said he was driving the car.
"I saw his car in the pole," Theron Banks, an employee at Steak Express said. "I came out. People were everywhere. Toews was in the ambulance. People were videotaping and taking pictures and trying to get autographs, but police said they couldn't get autographs."
Really? Seeking autographs and trying to take pictures with somebody in an ambulance? I knows fans can get a little crazy from time to time, but man, that's just not one of those times. Obviously he's entitled to some privacy, is he not?
But back to the matter at hand. This has to really have the Chicago fans on edge, even if the team says there was no injury. Toews is already out of the lineup on a day-to-day basis and comes a day after the same CBS Chicago outlet reported that Toews
might actually have a concussion
. Talk about a bad week.
Toews was already scheduled to miss the team's game on Thursday night against the
Stars
with the upper-body injury.