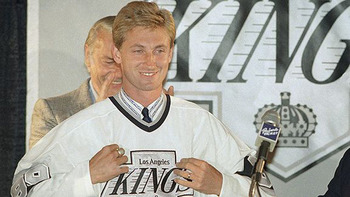 Two hours after the Oilers won the Stanley Cup in 1988, Gretzky learned from his father that the Oilers were planning to deal him to another team. Walter had known for months, but kept it from Gretzky so as to not upset him. According to Walter, Gretzky was being "shopped" to Los Angeles, Detroit, New York and Vancouver. According to Gretzky, Pocklington needed money as his other business ventures were not doing well (a similar reason to the cause of
Babe Ruth
being sold to the
New York Yankees
), and had gone "sour" on Gretzky and wanted to move him. At first, Gretzky did not want to leave Edmonton, but he later received a call from
Los Angeles Kings
owner
Bruce McNall
while on his honeymoon asking permission to meet and discuss the deal. Gretzky informed McNall that his prerequisites for a deal to take place were that
Marty McSorley
and
Mike Krushelnyski
join him as teammates in Los Angeles. After the details of the trade were finalized by McNall and Pocklington, one final condition had to be met: Gretzky had to call Pocklington and request a trade. When Pocklington revealed his plans to trade Gretzky to Oilers general manager and head coach
Glen Sather
, Sather went to work trying to stop the trade, but, when he found out Gretzky played a part in it, he changed his attitude to GM as he requested
Luc Robitaille
in exchange. The Kings refused, instead offering
Jimmy Carson
.
On August 9, 1988, in a move that heralded significant change in the NHL, the Oilers traded Gretzky, along with McSorley and Krushelnyski, to the Kings for Carson,
Martin Gelinas
, $15 million in cash, and the Kings' first-round draft picks in
1989
(later traded to the
New Jersey Devils
– New Jersey selected
Jason Miller
),
1991
(
Martin Rucinsky
), and
1993
(
Nick Stajduhar
). "The Trade", as it came to be known, upset Canadians to the extent that
New Democratic Party
House Leader
Nelson Riis
demanded that the government block it, and Pocklington was burned in effigy outside the
Northlands Coliseum
. Gretzky himself was considered a "traitor" by some Canadians for turning his back on his adopted hometown, and his home country; his motivation was widely rumoured to be the furtherance of
his wife
's acting career.
Edmontonians bore no grudge against Gretzky. On his first appearance in Edmonton after the trade—a game that was nationally televised in Canada—he received a four-minute standing ovation. The arena was sold out, and the attendance of 17,503 was the Oilers' biggest crowd ever to that date. Large cheers erupted for his first shift, his first touch of the puck, his two assists, and for
Mark Messier
's body check of Gretzky into the boards. After the game, Gretzky took the opportunity to confirm his patriotism: "I'm still proud to be a Canadian. I didn't desert my country. I moved because I was traded and that's where my job is. But I'm Canadian to the core. I hope Canadians understand that." After the 1988–89 season, a life-sized bronze statue of Gretzky was erected outside the Northlands Coliseum, holding the Stanley Cup over his head (picture shown above, to the right).