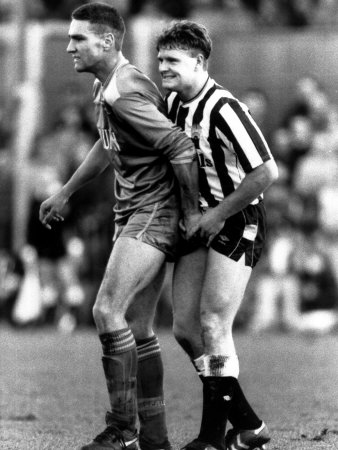 Vincent Peter "Vinnie" Jones (born 5 January 1965) is an English film actor and retired Welsh footballer.
Born in Hertfordshire, England, Jones represented and captained the Welsh national football team, having qualified via a Welshgrandparent. He also previously played for Chelsea and Leeds United. As a member of the "Crazy Gang", Jones won the 1988 FA Cup Final with Wimbledon, a club for which he played well over 200 games during two spells between 1986 and 1998. Jones appeared in the 7th series of UK gameshow Celebrity Big Brother finishing in 3rd place behind Dane Bowers and Alex Reid.
He has capitalised on his tough man image as a footballer and is known as an actor for his aggressive style and intimidating demeanour, often being typecast into roles as coaches, hooligans and violent criminals.
Jones made his 1998 feature film debut in Guy Ritchie's Lock, Stock and Two Smoking Barrels. He later starred in Guy Ritchie's next blockbuster Snatch as Bullet-Tooth Tony.
He became known to American audiences in the 2000 movie remake of Gone in 60 Seconds where he played "the Sphinx." Jones only had one line in the movie but was portrayed as a silent tough brawler.