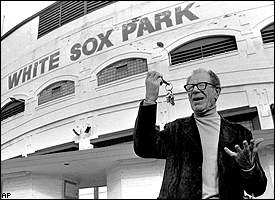 William Louis Veeck, Jr. (
/ˈvɛk/; February 9, 1914 – January 2, 1986), also known as "Sport Shirt Bill", was a native of Chicago, Illinois, and a franchise owner and promoter in Major League Baseball. He was best known for his publicity stunts to raise attendance. Veeck was at various times the owner of the Cleveland Indians, St. Louis Browns and Chicago White Sox.[1] Veeck was the last owner to purchase a baseball franchise without an independent fortune, and is responsible for many innovations and contributions to baseball.
Finding it hard to financially compete, Veeck retired after the 1980 Chicago White Sox season. He died of cancer six years later as a result of years of smoking. He was inducted into the Baseball Hall of Fame five years later in 1991.